Frozen Beverage Machine Rentals,
Premium Mixes and More
Why choose Texas Frozen Tropics?
Texas Frozen Tropics is a small family owned business right here in Spring, TX. We are not a giant national chain.

Jill (Owner) is a teacher in the greater Houston area and is an active member in our community.

We are your frozen drink experts! Let us do the thinking and you do the partying!

We aim for 100% satisfaction on your rental.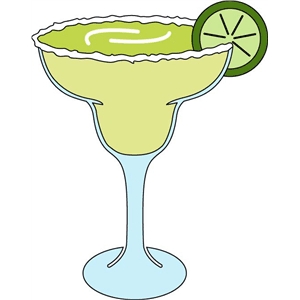 We deliver, set up, and pick up for your convenience. #NoHassle

We serve over 30 great tasting mixes.

We use high quality, commercial-grade frozen drink machines.

We also offer all the accessories you may need, like salt rimmers, cups, straws, and more!
- Click machine rentals below.
- Choose your event date and time.
- Choose 2 mixes. (Add more if necessary)
- Enter your information and submit.
***That's it!!!***
- We will contact you after you have completed your rental online.
- Rentals are for 24 hours at no extra cost.
- Set up is typically 2 hours before your event.
- Same day pick-up is an additional $50.
- Pick up times will be discussed during delivery.
- Our machines take about 1.5 hours to freeze.
- We will bring the machine, cart, extension cord, 6 gallon bucket, spatula, cups, straws, and mixes.
- Set up usually takes 10-20 minutes.
- Once we set it up you may not move the machine.
- When the party is over simply turn off the machine.
- We will do all of the cleaning.
Daily Rentals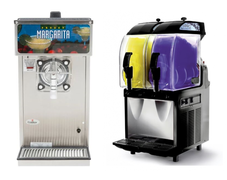 Monthly Lease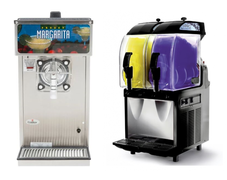 Mixes and Add-Ons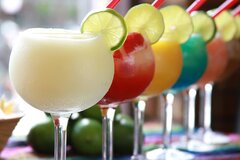 Texas Frozen Tropics is located in Spring, TX and services the greater Houston area with party and frozen drink rentals. Whether you are planning a wedding, birthday party or fun get together, let us help make the day extra special with specialty frozen drinks your guests are sure to love.

Browse our double spout drink machines, flavors, and accessories. What are you waiting for? Book your next event today! Each machine rental comes with two mix flavors, 50 cups, 50 straws, and 1 salt rimmer.